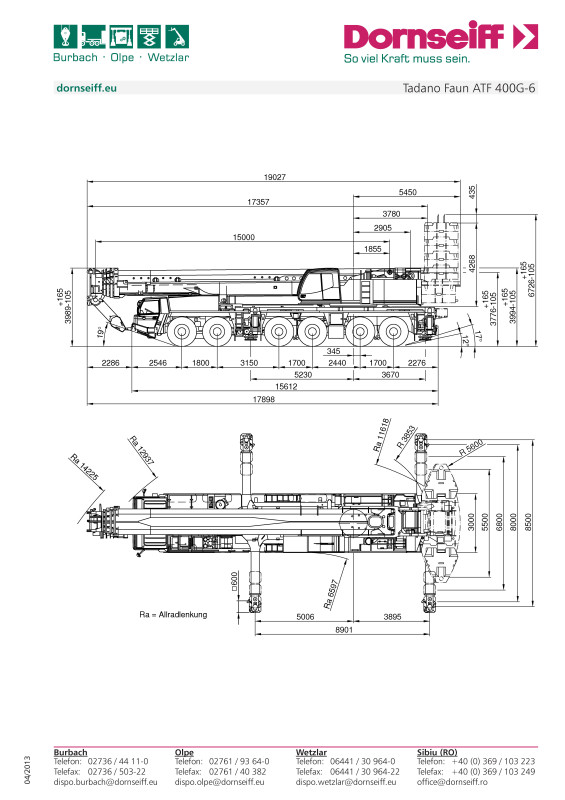 In a previous post I've been talking about the importance of corporate branding and how branded crane load charts can effectively push your corporate brand.
As mentioned in that post more and more crane hire companies talk to us in order to get crane load charts prepared for their corporate website.
So now we've just finished another set of branded load chart PDFs for one of our customers. The German crane hire company Dornseiff just took delivery of a complete set of branded PDF load charts from us for their website.
The initial talks about this new order showed that the people from Dornseiff are very serious about their corporate branding.
They delivered us a comprehensive corporate design manual including all detailed information about the graphic design and fonts that have to be used. All these information flew into our layout proposal for the load chart design. Beside some smaller corrections we've met their expectations concerning the layout closely with the first shot.
About Dornseiff crane hire
Dornseiff runs a fleet of telescopic mobile cranes up to 400 metric tons. The biggest telescopic cranes are a Terex AC 350/6 and the new ATF 400G-6 from Tadano. You can also hire lattice boom cranes, crawler cranes and mobile folding cranes from Dornseiff.
Beside mobile crane hire the company is also one of the bigger access platform companies in Germany. All machines are hire out from three locations in Germany, namely in Burbach, Olpe and Wetzlar. A fourth depot for cranes and access platforms is located in Sibiu, Romania.
Special crane for narrow and low headroom work
Rather new in the crane fleet is a crane especially designed for heavy transport and erecting of industrial machinery in confined spaces. It's a Grove GMK 4100S. It is predestined for lifting in narrow factory buildings with low headroom. That's why it is named "Hallenmeister" (Master of the halls).
In order to highlight this crane, Dornseiff has actually created a separate website for it to show all its advantages. And that's why we have in preparation a separate and specially designed load chart file for the GMK 4100S.
If you want to learn more about our service and you want to discuss about branded load charts for your crane hire company please feel free to contact me.