Writing a new blog post always is a kind of spare time pleasure for me. That's why my time for writing always is a little restricted. That means that blogging sometimes creates some conflicts with other interests or projects for me that I also want to push forward.
During the last weeks I was facing this conflict again because I wanted to focus on the setup of a new niche website for a business which is closely related to the crane hire business. As a consequence my time for blogging about new crane guides was close to none during the last weeks.
But now there's time again to introduce to you the new crane load chart books that we have delivered in the past months. So let's have a closer look at 3 of the latest deliveries:
Mobile and tower crane guide for Breuer & Wasel
In midth of January one of the biggest mobile and tower crane companies in Germany took delivery of their new and updated crane guide. The last issue was printed and delivered back in 2007 so it was rather aged already and no more up to date.
Breuer & Wasel is one of our very early customers. The first book we have setup in Adobe Pagemaker at that time. In order to give the new crane guide a nicer look, we have switched the complete content to InDesign now and gave it a decent face lift. The real nice design of the cover and some other parts of the content was created by Wasel's new advertising agency.
The new Breuer & Wasel guide contains load charts and specifications for
Mobile cranes from 30 up to 750 tons. This is our first book that contains complete load charts for the brand new Liebherr LTM 1750-9.1 telescopic crane. (Pictures of the official launch at the Liebherr crane days you can find here).
Rough terrain cranes up to 160 tons. As biggest RT-crane Breuer & Wasel owns the one and only LTL 1160.
Crawler cranes up to 600 tons. The crane company runs telescopic crawler cranes LTR 1060 and LTR 1100 from Liebherr as well as the lattice crawler crane model LR 1600/2.
Tower cranes Specifications for 40 different tower cranes from Liebherr up to the 630 EC-H 40 top slewing crane. Though the tower crane chapter has more than 200 pages it is just the second biggest tower crane section we have prepared so far.
Heavy haulage and transport vehicles
Initially this book should have been finished much earlier last year introducing the new company name and logo "Wasel". But the official change of the company name and the relaunch was postponed to 2013. Actually the LTM 1750-9.1, which was delivered only a few days ago, is the first crane with the new Wasel livery.
Mobile crane guide for german crane company Greving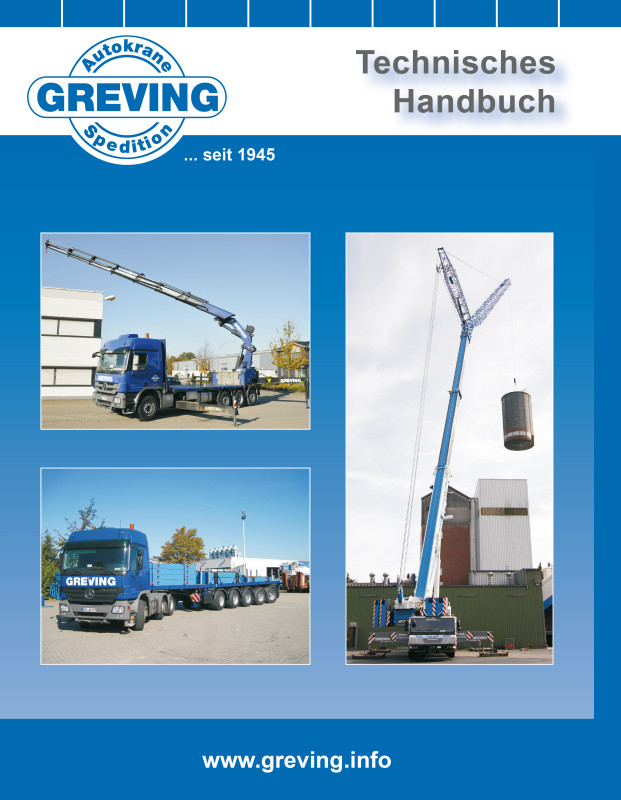 Not far away from the Wasel headquarter in Bergheim another crane company got their first crane guide from us in the midth of December.
Greving in Ahaus is a midsized crane hire company which offers telescopic cranes up to 350 tons. The pocketbook in US size offers crane specifications and information about mobile cranes, Palfinger loader cranes and some other special cranes like the Grove GCK 3045.
Greving also has a separate division for regular road transport, freight forwarding and bulk transport. For local recovery and towing services they own some specialised towing trucks and equipment.
After the arrival in Ahaus the pocketbooks were immediately handed over to the first customers as an acceptable Christmas gift. In order to refinance the production costs, Greving has offered some suppliers to add some ads to the book.
Massive crane spec book for AmQuip crane rental
The third book that I would like to introduce to you today is one of the most massive crane spec books that we have delivered so far.
In November we have shipped the new spec books for AmQuip crane rental in Trevose, Pennsylvania. The crane company had ordered an updated reprint of their 2010 spec books from us in September last year.
With constantly prepared updates and additions between 2010 and 2012 we haven't had too much work with the setup of the most up to date version of the crane guide. Compiling of the content was done rather quick and the new printing process was started in October.
With all the different crane specifications this spec book is a real milestone in crane diversity. The 2012 issue of the AmQuip crane guide contains load charts and specifications for
All terrain cranes, from 22 up to 550 US tons capacity
Hydraulic Truck Cranes, from 30 up to 90 US tons capacity
Boom Trucks
Carry Decks
Rough Terrain Cranes, from 22 up to 130 US tons capacity
Crawler cranes, from 80 up to 825 Us tons capacity
Tower cranes, from 16,5 up to 35 US tons capacity
The complete crane guide grew to a total of 816 pages covering crane specifications and load charts for a fleet of 100 (!) different types of cranes. With that said this crane spec book is not only the biggest book we have delivered for a US crane company so far but also number 3 in our ranking of the most massive crane guides we have printed ever.