Tonight we have passed a real magical mark in the FLEETfile: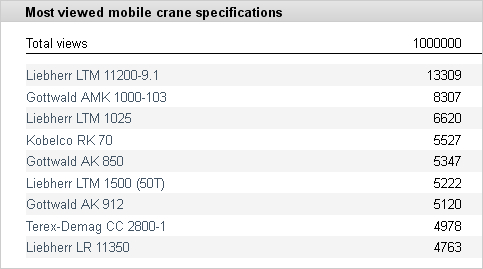 In August of 2006 I have started the first version of the online mobile crane database on FLEETfile.com. Since then the website has seen two relaunches. The last one was released in April of 2011. The number of visitors showed a steady and continuous growth since the website was going live.
Today was the day when all the FLEETfile visitors pushed the website beyond a magical border: From the start in 2006 until today our website visitors have viewed all the different mobile crane specifications 1.000.000 times at all.
This means that an average of more than 400 crane specifications were viewed every day. I would have never thought that the website would become so popular for information about mobile cranes. It's amazing! Thanks to all of you who use the FLEETfile as a basic information source for mobile crane specifications!
As you can also see on the screenshot above the 10 most viewed mobile crane specifications during the last 6 years are those for:
The overall number of listed mobile crane types has increased from approx. 300 at the start to 633 from all different crane manufacturers and types today. And we still have not added our complete crane brochure archive ...