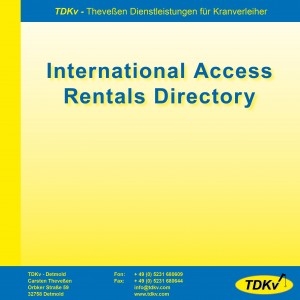 Do you need to hire access platforms regularly for various job sites within Europe or worldwide? We have the ideal directory for all of your needs of access hire.
The International Access Rental Directory covers more than 2.800 platform hire companies worldwide. This makes it the essential reference for all planners and dispatchers who need to deploy access platforms nationwide, within Europe or worldwide. The addresses (incl. phone, fax, e-mail, website) are listed in three sections according to name, location and postal code.
This specialized business directory will give you instant access to numerous equipment hire companies from all over the world which offer aerial lifts, scissor lifts, truck mounted lifts, articulated boom lifts and other equipment for hire.
The PDF additionally contains an extensive navigation feature that helps you to locate the appropriate access hire company for your renting of access platforms quickly.
International Access Rental Directory - Issue 5
PDF-file - Issue 5, Free of charge, delivery by e-mail
Published: July 2015
This directory covers access platform hire companies in
Algeria, Andorra, Argentine, Australia, Austria, Bahrain, Belgium, Brazil, Bulgaria, Canada, Chile, Costa, Rica, Croatia, Cyprus, Czech Republic, Denmark, Ecuador, Estonia, Finland, France, Germany, Greece, Hong Kong, Hungary, India, Ireland, Israel, Italy, Japan, Jordan, Kuwait, Latvia, Lebanon, Liechtenstein, Lithuania, Luxembourg, Mexico, Morocco, Netherlands, New, Zealand, Norway, Oman, Peru, Poland, Portugal, Puerto, Rico, Qatar, Romania, Russian Federation, Saudi Arabia, Singapore, Slovakia, Slovenia, South Africa, Spain, Sweden, Switzerland, Taiwan, Trinidad and Tobago, Turkey, Ukraine, United Arab Emirates, United Kingdom, United States.