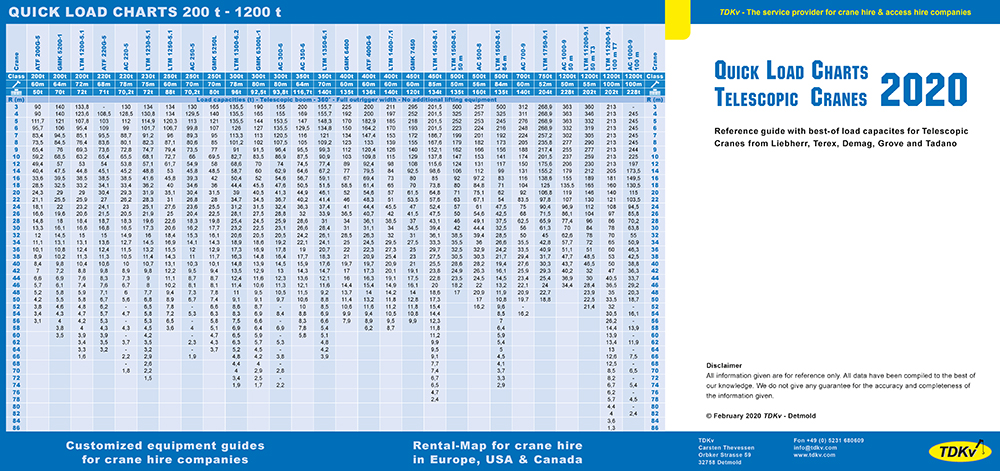 This free PDF reference guide gives you a quick insight into the load capacities of telescopic cranes from 35 t up to 1200 t capacity. The quick load chart guide shows the best-of main boom load capacities of the up to date telescopic cranes from Liebherr, Terex, Demag, Grove und Tadano.
PDF load chart reference guide: free of charge
Release date : February 2020
Customized load chart books >>
Standard mobile crane load chart book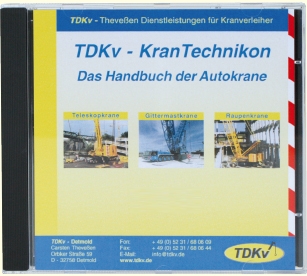 Do you need crane load charts for your lift planning? Preparing a crane lift plan is one of the most essential tasks in the crane business. As a lift planner who needs to plan several crane jobs every day, you constantly need to consult the crane charts of numerous different mobile cranes. For you we have developed the TDKv-KranTechnikon.
This standard mobile crane load chart book contains the metric load charts, range diagrams and dimensional drawings of 240 mobile cranes with capacities between 6 and 1.250 t. Load charts for all telescopic cranes, lattice boom cranes, crawler cranes and mobile tower cranes of recent years are compiled in one PDF file in a uniform design.
Through the extensive PDF menu you will find all the required crane charts and specifications for your lift planning within a few seconds. All crane configurations are explained by multilangual pictograms. Explaining text parts are given in german, english and french. With just a few clicks, you can access the crane load charts and specifications of 240 mobile cranes from all the major crane manufacturers.
TDKv-KranTechnikon (standard mobile crane load chart book), Issue 2,
PDF-file: Free of charge, delivery by download
Published: May 2006