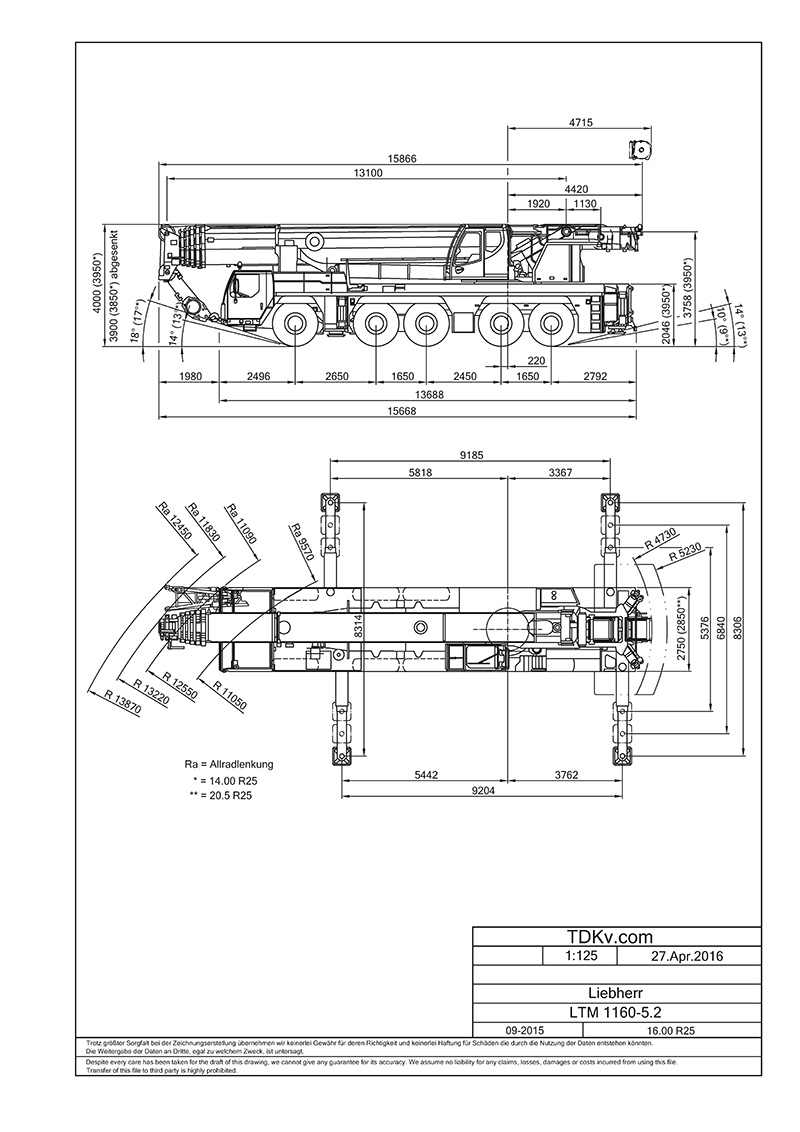 We deliver crane CAD blocks for your crane lift plan as DXF or DWG files for all current mobile cranes from Liebherr, Terex, Demag, Grove, Tadano and more.
Each CAD block is scaled redrawn in AutoCAD by our draftsmen, based upon the manufacturers' brochure. Our crane CAD blocks contain all relevant crane dimensions and are ready for immediate use in your CAD based crane lift planning.
The CAD packages contain front view, rear view and top view in various outrigger width, side view for carrier and upper structure in left and right view, main boom in all length, folding jib, fixed jib and luffing jib in all length. Our crane CAD blocks will help you to easily prepare the perfect lift plan with only a few clicks.
Mobile crane CAD block stock list - Available as DWG or DXF files
(More crane types on request)
Crane

Side view

(EUR 48,50)

Top view

(EUR 48,50)

Main boom

(EUR 29,50)

CAD package

(upon request)

Grove AT 422
X
X
 
 
Grove GCK 3045
X
X
X
 
Grove GMK 2035 E
X
X
X
 
Grove GMK 3050-1
X
X
X
 
Grove GMK 3055
X
X
X
 
Grove GMK 4080-1
X
X
X
 
Grove GMK 4100
X
X
X
 
Grove GMK 4100 L
X
X
X
 
Grove GMK 5095
X
X
X
 
Grove GMK 5110-1
X
X
X
 
Grove GMK 5130-2
X
X
X
 
Grove GMK 5165-B
X
X
 
 
Grove GMK 5170
X
X
X
 
Grove GMK 5170-1
X
X
X
 
Grove GMK 5220
X
X
X
 
Grove GMK 5250 L
X
X
X
X
Grove GMK 6180
X
X
 
 
Grove GMK 6220 L
X
X
X
 
Grove GMK 6300
X
X
X
 
Grove GMK 6300 L
X
X
X
X
Grove GMK 6400
X
X
 
 
Grove GMK 7450
X
X
X
 
Grove RT 422
X
X
 
 
Grove RT 740 B
X
 
 
 
Grove RT 880E
X
X
 
 
Grove TMS 760
X
X
 
 
Grove TMS 800B
X
X
 
 
Kato MR 130
X
X
 
 
Kato MR-350Ri
X
X
 
 
Liebherr LG 1150
X
X
 
 
Liebherr LR 1250
X
X
 
 
Liebherr LR 1300
X
X
 
 
Liebherr LR 1500
X
X
 
X
Liebherr LR 1600/2
X
X
 
X
Liebherr LR 1750
X
X
 
 
Liebherr LTC 1045-3.1
X
X
X
 
Liebherr LTC 1050-3.1
X
X
X
 
Liebherr LTC 1055-3.1
X
X
 
 
Liebherr LTF 1035-3.1
X
X
X
 
Liebherr LTF 1045-4.1
X
X
X
 
Liebherr LTF 1060-4.1
X
X
X
 
Liebherr LTM 1030-2.1
X
X
X
 
Liebherr LTM 1040-2.1
X
X
X
 
Liebherr LTM 1045-3.1
X
X
X
 
Liebherr LTM 1050/1
X
X
X
 
Liebherr LTM 1050-3.1
X
X
X
 
Liebherr LTM 1055-3.1
X
X
X
 
Liebherr LTM 1055-3.2
X
X
X
 
Liebherr LTM 1060-3.1
X
X
X
 
Liebherr LTM 1070-4.2
X
X
X
 
Liebherr LTM 1080-1
 
X
 
 
Liebherr LTM 1090-4.1
X
X
X
 
Liebherr LTM 1095-5.1
X
X
X
 
Liebherr LTM 1100-2
 
X
X
 
Liebherr LTM 1100-4.2
X
X
X
 
Liebherr LTM 1100-5.2
X
X
X
 
Liebherr LTM 11200-9.1 T3
 
X
X
 
Liebherr LTM 11200-9.1 T7
X
 
X
 
Liebherr LTM 1130-5.1
X
X
X
 
Liebherr LTM 1150-6.1
X
X
X
 
Liebherr LTM 1160-5.1
X
X
X
 
Liebherr LTM 1160-5.2
X
X
X
X
Liebherr LTM 1200-5.1
X
X
X
 
Liebherr LTM 1220-5.2
X
X
X
 
Liebherr LTM 1250-5.1
X
X
X
X
Liebherr LTM 1250-6.1
X
X
X
 
Liebherr LTM 1300-6.2
X
X
X
X
Liebherr LTM 1350-6.1
X
X
X
 
Liebherr LTM 1400-7.1
X
X
X
 
Liebherr LTM 1450-8.1
X
X
X
X
Liebherr LTM 1500-8.1 50m
X
X
X
X
Liebherr LTM 1500-8.1 84m
X
X
X
X
Liebherr LTM 1750-9.1
X
X
X
X
Liebherr MK 100
 
X
 
 
Liebherr MK 63
 
X
 
 
Liebherr MK 88
 
X
 
 
Lorain CD 114
X
 
 
 
Manitowoc 14000
X
 
 
 
Spierings SK 1265-AT6
X
X
 
 
Spierings SK 498-AT4
 
X
 
 
Spierings SK 599-AT5
 
X
 
 
Sumitomo SC 1500
X
 
 
 
Tadano ATF 100G-4
X
X
X
X
Tadano ATF 180G-5
X
X
X
 
Tadano ATF 30-2L
X
X
 
 
Tadano ATF 400 G-6
X
X
X
 
Tadano ATF 70G-4 44m
X
X
X
X
Tadano ATF 70G-4 52m
X
X
X
X
Tadano Faun ATF 110G-5
X
X
X
 
Tadano Faun ATF 130G-5
X
X
X
 
Tadano Faun ATF 160G-5
X
X
X
 
Tadano Faun ATF 220G-5
X
X
X
 
Tadano Faun ATF 40G-2
X
X
X
 
Tadano Faun ATF 45-3
X
X
X
 
Tadano Faun ATF 50G-3
X
X
X
 
Tadano Faun ATF 60-3
 
X
 
 
Tadano Faun ATF 60-4
X
X
X
 
Tadano Faun ATF 65G-4
X
X
X
 
Tadano Faun ATF 70-4
 
X
 
 
Tadano Faun ATF 80-4
X
X
 
 
Tadano Faun ATF 90G-4
X
X
 
 
Tadano Faun HK 40
X
X
X
 
Tadano Faun HK 60
X
X
X
 
Tadano GR 550 EX
X
X
 
 
Tadano GR 700 EX L
X
X
 
 
Tadano GS 300 XL
X
X
 
 
Tadano TG 500E
X
 
 
 
Tadano TL 250E
X
 
 
 
Tadano TR 350XL
X
 
 
 
Tadano TR 500E
X
 
 
 
Tadano TR 600XL
X
 
 
 
Terex Superlift 3800
X
X
 
 
Terex AC 140 Compact
X
X
X
 
Terex AC 55 City
X
X
X
 
Terex Challenger 3160
X
X
X
 
Terex Challenger 3180
X
X
X
 
Terex D85 i
X
X
 
 
Terex Demag AC 70 City
 
 
 
 
Terex Explorer 5500
X
X
 
 
Terex Explorer 5600
X
X
 
 
Terex Explorer 5800
X
X
 
 
Terex RT 450
X
 
 
 
Terex T 340
X
 
 
 
Terex T 750
X
 
 
 
Terex T 790
X
 
 
 
Terex-Bendini RC 60
X
X
 
 
Terex-Demag AC 100
X
X
 
 
Terex-Demag AC 1000-9
X
X
 
 
Terex-Demag AC 100-4
X
X
X
 
Terex-Demag AC 100-4L
X
X
X
 
Terex-Demag AC 1200
X
X
 
 
Terex-Demag AC 120-1
X
X
 
 
Terex-Demag AC 140
X
X
 
 
Terex-Demag AC 150
X
X
 
 
Terex-Demag AC 160-2
X
X
 
 
Terex-Demag AC 200-1
X
X
X
 
Terex-Demag AC 200-1P
X
X
X
 
Terex-Demag AC 250-1
X
X
X
 
Terex-Demag AC 30 City
 
X
 
 
Terex-Demag AC 300-6
X
X
X
 
Terex-Demag AC 350
X
X
 
 
Terex-Demag AC 40-2
 
X
 
 
Terex-Demag AC 40-2L
 
X
 
 
Terex-Demag AC 40-City
X
X
 
 
Terex-Demag AC 500-2
X
X
X
 
Terex-Demag AC 50-1
X
X
 
 
Terex-Demag AC 700
X
X
X
 
Terex-Demag AC 80-2
X
X
 
 
Terex-Demag CC 2800-1
X
X
 
 
Terex-Demag HC 810
X
X