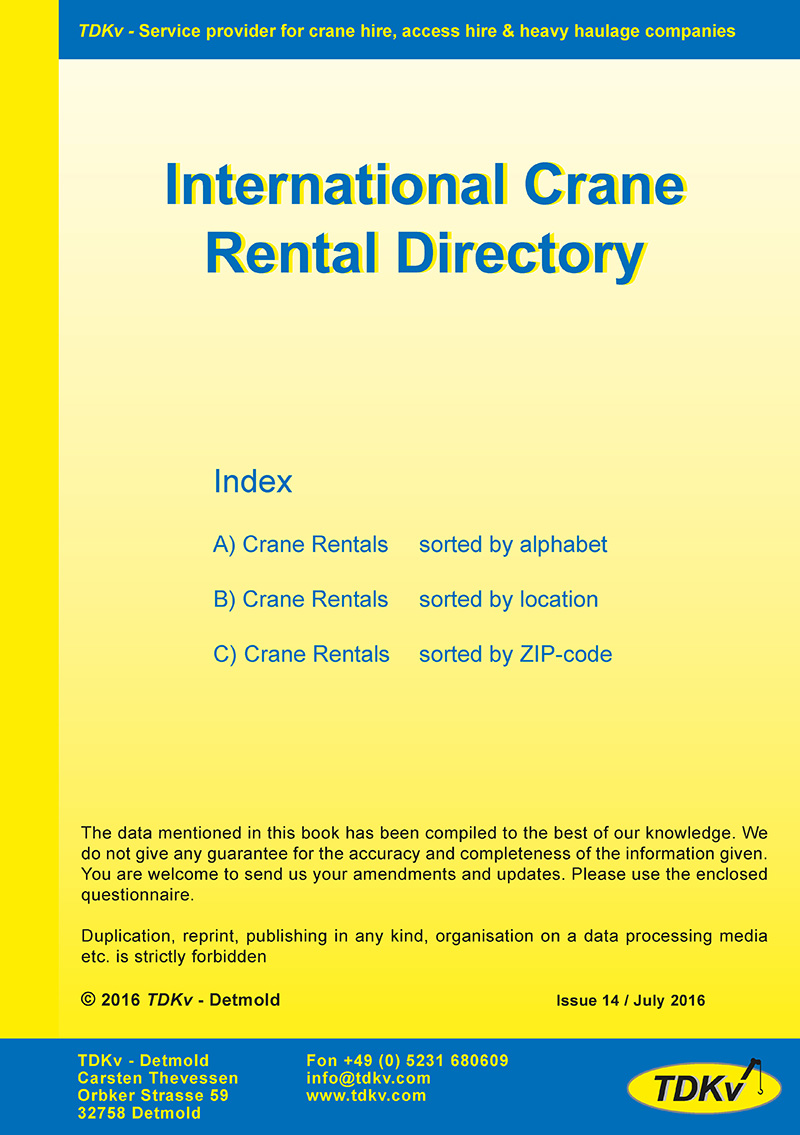 Do you need to hire mobile cranes nationwide or international for crane lifts? The International Crane Rental Directory will show you quickly contact details for more than 5.000 mobile crane hire companies from all over the world.
You find all crane companies well arranged in three chapters according to name, location and ZIP-code, within each chapter the addresses are sorted by country.
In addition to full contact details (incl. phone, fax, e-mail and website), you also find the most important features of the particular crane hire company.
This crane hire directory is your essential source when it comes to mobile crane hire in Europe, North America, South America, Asia, Australia / New Zealand and Africa. It will help you to find the best suitable crane hire company for your crane lifts in more than 80 countries worldwide.
PDF-file: EUR 89,00 - Issue 14, July 2016.
Delivery by e-mail / download
Rental Map (coming soon)
The International Crane Rental Directory covers mobile crane hire companies in:
Algeria, Andorra, Argentine, Australia, Austria, Azerbaijan, Bahrain, Bangladesh, Belgium, Bolivia, Bosnia and Herzegovina, Botswana, Brazil, Bulgaria, Canada, Chile, China, Colombia, Costa Rica, Croatia, Cyprus, Czech Republic, Denmark, Ecuador, Egypt, Estonia, Finland, France, Germany, Greece, Guatemala, Hong Kong, Hungary, Iceland, India, Indonesia, Iran, Ireland, Israel, Italy, Japan, Jordan, Kazakhstan, Korea, South, Kuwait, Latvia, Lebanon, Liechtenstein, Lithuania, Luxembourg, Malaysia, Malta, Mexico, Morocco, Mozambique, Netherlands, New Zealand, Nicaragua, Nigeria, Norway, Oman, Panama, Peru, Philippines, Poland, Portugal, Puerto Rico, Qatar, Romania, Russian Federation, Saudi Arabia, Singapore, Slovakia, Slovenia, South Africa, Spain, Sweden, Switzerland, Taiwan, Thailand, Trinidad and Tobago, Tunisia, Turkey, Ukraine, United Arab Emirates, United Kingdom, United States, Uruguay, Venezuela, Viet Nam.