Doolan's Heavy Haulage has added the widening trailer transport system from German trailer manufacturer Scheuerle to its fleet. Recently the Australian heavy haulage company has used the new trailer system for the transport of a Hitachi excavator throughout the country.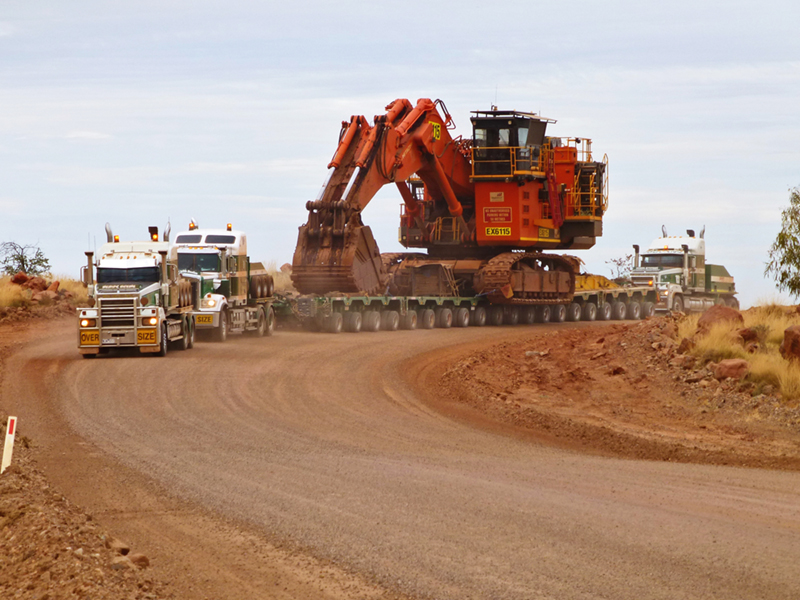 Territories in Australia have different regulations for heavy transports concerning axle spacings and trailer width. This requires flexible axle and trailer configurations which often need to be changed when a transport is crossing borders between the different territories.
For this demand Doolan's Heavy Haulage has taken delivery of the widening trailer system from Scheuerle. These heavy haulage trailers were especially developed and designed for the requirements of the American and Australian heavy haul markets. The latest addition to this product range is the new Dual Lane Trailer with a variable trailer width. The new Scheuerle trailer offers a real high bending moment even with highest loads and extended to full width. It can be configured either with a gooseneck or a drawbar. The widening trailer system was recently brought to work for the transport of a Hitachi excavator which is used in the mining industry. The heavy transport job was successfully finished with the new Scheuerle trailer.
About Scheuerle Scheuerle is one of the most recognised heavy haulage trailer manufacturers in the world. The product range comprises hydraulic trailer, modular trailer, platform trailer, SPMT and more. Scheuerle heavy haulage trailers are known for long term reliability and high load capacities. Tailor made transport solutions for all kind of heavy haulage jobs is part of the company's dedication. Scheuerle together with Nicolas and Kamag is part of the TII Group (Transporter Industry International) formed by Otto Rettenmaier from Heilbronn. The group offers heavy transport solutions with payloads up to 20,000 tonnes.
About Doolan's Heavy Haulage Doolan's is specialised in heavy transport for the mining and manufacturing industry in Australia. The company has two offices and depots which are located in Moorabin/Melbourne and Maddington/ Perth. Since 1980 Doolan's offers heavy transports throughout all Australian territories. Source: Scheuerle Trailer