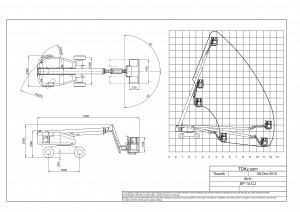 We provide a reliable CAD drafting service for crane hire, heavy haulage, access hire and heavy equipment companies.
Is your CAD drafting department blocked by routine CAD drafting? Do you want to outsource standard tasks of your CAD drafting? Do you lack of available capacities in your own CAD drafting department?
With our CAD drafting service you can focus on your effective CAD planning while we prepare your single CAD blocks and components for your transport and crane lift plans and any other applications.
We offer you a full 2D CAD drafting service for all of your basic CAD drafting needs. We draft your CAD blocks for cranes, heavy haulage, access platforms and heavy equipment.
Our experienced and skilled draftsperson will draft your mobile cranes, tower cranes, booms, jibs, hook blocks, spreader beams, crane mats, prime movers, trucks, trailers, access platforms, MEWPs, fork lifts, telescopic handlers, gantries, auxiliary machines and other tools at a favorable hourly rate.
Send us your CAD drafting enquiry by email >>
From sketch to CAD drafting - How to engage us for your CAD drafting needs
Send us your sketches, scans, images or drafts for your CAD drafting items by e-mail or fax in order to receive our free estimation of costs. We will than send you our quotation which is subject to confirmation based on your job definition. Having received your confirmation to our quotation we will start your CAD drafting job and convert your sketch(es) into proper and clean CAD blocks.
For possible corrections and approval you receive your CAD blocks as a PDF file first. In the next step we will incorporate your amendments. Once all of your CAD blocks are finished and approved we will send you the CAD blocks as DXF or DWG-file
We offer comprehensive CAD drafting solutions for all of your basic CAD drafting needs