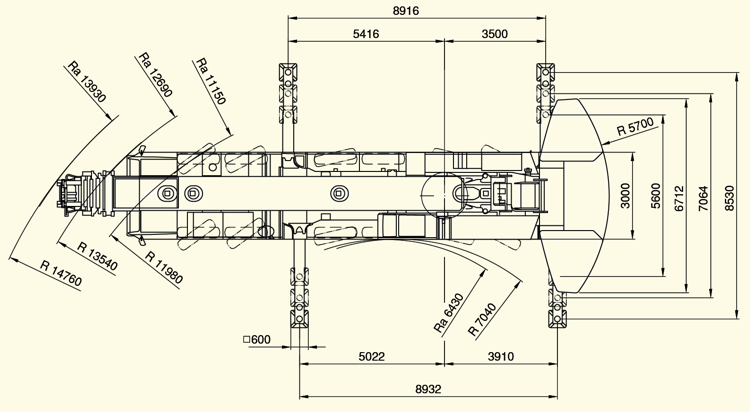 We deliver mobile crane CAD blocks for crane lift plans. Crane CAD blocks for all current mobile cranes for your CAD crane lift plans available as DXF or DWG files.
Including all dimensions, outrigger basis and slewing radius our crane CAD drawings contain all relevant elements of the mobile cranes - ready to be used in your concrete CAD crane lift plan.
At once you can check and show the space needed by your crane for rigging and slewing. This gives you a perfect crane lift for your customer.
The crane CAD blocks are scaled redrawn in AutoCAD by our draftsmen based upon the crane manufacturers' brochures. Check our stock list of CAD blocks for mobile cranes and download free sample drawings for tryout below.
Mobile crane CAD blocks - Stock list of crane DWG or DXF files
| Crane category | Mobile crane drawing | Side view | Top view |
| --- | --- | --- | --- |
| Telescopic crane | Grove AT 422 US | X | X |
| Telescopic crane | Grove GCK 3045 |   | X |
| Telescopic crane | Grove GMK 2035 E |   | X |
| Telescopic crane | Grove GMK 3050-1 |   | X |
| Telescopic crane | Grove GMK 3055 |   | X |
| Telescopic crane | Grove GMK 4080-1 |   | X |
| Telescopic crane | Grove GMK 4085 US | X | X |
| Telescopic crane | Grove GMK 4100 | X | X |
| Telescopic crane | Grove GMK 4100 L | X | X |
| Telescopic crane | Grove GMK 5095 | X | X |
| Telescopic crane | Grove GMK 5110-1 | X | X |
| Telescopic crane | Grove GMK 5130-2 | X | X |
| Telescopic crane | Grove GMK 5130-2 | X | X |
| Telescopic crane | Grove GMK 5165-B | X | X |
| Telescopic crane | Grove GMK 5165B US | X | X |
| Telescopic crane | Grove GMK 5170 | X | X |
| Telescopic crane | Grove GMK 5220 | X | X |
| Telescopic crane | Grove GMK 6180 | X | X |
| Telescopic crane | Grove GMK 6180 US | X | X |
| Telescopic crane | Grove GMK 6220 L | X | X |
| Telescopic crane | Grove GMK 6300 | X | X |
| Telescopic crane | Grove GMK 7450 | X | X |
| Telescopic crane | Grove TMS 760 US | X | X |
| Telescopic crane | Grove TMS 800B US | X | X |
| Telescopic crane | Liebherr LTC 1045-3.1 |   | X |
| Telescopic crane | Liebherr LTC 1055-3.1 |   | X |
| Telescopic crane | Liebherr LTM 1030-2.1 |   | X |
| Telescopic crane | Liebherr LTM 1040-2.1 |   | X |
| Telescopic crane | Liebherr LTM 1045-3.1 |   | X |
| Telescopic crane | Liebherr LTM 1050/1 | X | X |
| Telescopic crane | Liebherr LTM 1050/1 US | X | X |
| Telescopic crane | Liebherr LTM 1050-3.1 |   | X |
| Telescopic crane | Liebherr LTM 1055-3.2 |   | X |
| Telescopic crane | Liebherr LTM 1070 Zweiwege | X | X |
| Telescopic crane | Liebherr LTM 1070-4.2 |   | X |
| Telescopic crane | Liebherr LTM 1080-1 |   | X |
| Telescopic crane | Liebherr LTM 1090-4.1 |   | X |
| Telescopic crane | Liebherr LTM 1095-5.1 | X | X |
| Telescopic crane | Liebherr LTM 1100-4.2 | X | X |
| Telescopic crane | Liebherr LTM 11200-9.1 T3 | X | X |
| Telescopic crane | Liebherr LTM 11200-9.1 T7 | X | X |
| Telescopic crane | Liebherr LTM 1130-5.1 | X | X |
| Telescopic crane | Liebherr LTM 1150-6.1 |   | X |
| Telescopic crane | Liebherr LTM 1160-5.1 | X | X |
| Telescopic crane | Liebherr LTM 1200-5.1 | X | X |
| Telescopic crane | Liebherr LTM 1220-5.2 |   | X |
| Telescopic crane | Liebherr LTM 1250-6.1 | X | X |
| Telescopic crane | Liebherr LTM 1350-6.1 | X | X |
| Telescopic crane | Liebherr LTM 1400-7.1 | X | X |
| Telescopic crane | Liebherr LTM 1500-8.1 | X | X |
| Telescopic crane | Link Belt HTT 8675 II US | X |   |
| Telescopic crane | Tadano Faun ATF 110G-5 |   | X |
| Telescopic crane | Tadano Faun ATF 130G-5 |   | X |
| Telescopic crane | Tadano Faun ATF 160G-5 |   | X |
| Telescopic crane | Tadano Faun ATF 220G-5 |   | X |
| Telescopic crane | Tadano Faun ATF 360G-6 |   | X |
| Telescopic crane | Tadano Faun ATF 40G-2 | X | X |
| Telescopic crane | Tadano Faun ATF 45-3 |   | X |
| Telescopic crane | Tadano Faun ATF 50G-3 |   | X |
| Telescopic crane | Tadano Faun ATF 60-3 |   | X |
| Telescopic crane | Tadano Faun ATF 60-4 |   | X |
| Telescopic crane | Tadano Faun ATF 65G-4 |   | X |
| Telescopic crane | Tadano Faun ATF 70-4 |   | X |
| Telescopic crane | Tadano Faun ATF 80-4 |   | X |
| Telescopic crane | Tadano Faun ATF 90G-4 | X | X |
| Telescopic crane | Tadano TG 500E | X |   |
| Telescopic crane | Tadano TL 250E | X |   |
| Telescopic crane | Tadano TR 350XL | X |   |
| Telescopic crane | Tadano TR 500E | X |   |
| Telescopic crane | Tadano TR 600XL | X |   |
| Telescopic crane | Terex T 340 US | X |   |
| Telescopic crane | Terex T 750 US | X |   |
| Telescopic crane | Terex T 790 US | X |   |
| Telescopic crane | Terex-Demag AC 100 |   | X |
| Telescopic crane | Terex-Demag AC 1000-9 | X | X |
| Telescopic crane | Terex-Demag AC 100-4 | X | X |
| Telescopic crane | Terex-Demag AC 100-4L | X | X |
| Telescopic crane | Terex-Demag AC 1200 | X | X |
| Telescopic crane | Terex-Demag AC 120-1 |   | X |
| Telescopic crane | Terex-Demag AC 140 |   | X |
| Telescopic crane | Terex-Demag AC 150 | X | X |
| Telescopic crane | Terex-Demag AC 160-2 |   | X |
| Telescopic crane | Terex-Demag AC 200-1 | X | X |
| Telescopic crane | Terex-Demag AC 200-1P | X | X |
| Telescopic crane | Terex-Demag AC 250-1 |   | X |
| Telescopic crane | Terex-Demag AC 30 City |   | X |
| Telescopic crane | Terex-Demag AC 300-6 | X | X |
| Telescopic crane | Terex-Demag AC 350 | X | X |
| Telescopic crane | Terex-Demag AC 40-2 |   | X |
| Telescopic crane | Terex-Demag AC 40-2L |   | X |
| Telescopic crane | Terex-Demag AC 40-City |   | X |
| Telescopic crane | Terex-Demag AC 500-2 | X | X |
| Telescopic crane | Terex-Demag AC 50-1 |   | X |
| Telescopic crane | Terex-Demag AC 80-2 |   | X |
| Telescopic crane | Terex-Demag HC 810 | X | X |
| Crawler crane | Liebherr LR 1250 | X | X |
| Crawler crane | Liebherr LR 1600/2 | X | X |
| Crawler crane | Liebherr LR 1750 | X | X |
| Crawler crane | Manitowoc 14000 US | X |   |
| Crawler crane | Sumitomo SC 1500 US | X |   |
| Crawler crane | Terex-Demag CC 2800-1 | X | X |
| Mobile tower crane | Liebherr MK 100 |   | X |
| Mobile tower crane | Liebherr MK 63 |   | X |
| Mobile tower crane | Spierings SK 1265-AT6 | X | X |
| Mobile tower crane | Spierings SK 498-AT4 |   | X |
| Industrial crane | Lorain CD 114 US | X |   |
| Industrial crane | Terex D85 i US | X | X |
| Lattice boom crane | Liebherr LG 1150 | X | X |
| Rough terrain crane | Grove RT 422 US | X | X |
| Rough terrain crane | Grove RT 740 B US | X | X |
| Rough terrain crane | Link Belt RTC 8040 II US | X | X |
| Rough terrain crane | Tadano GR 550 EX | X | X |
| Rough terrain crane | Tadano GR 700 EX L | X | X |
| Rough terrain crane | Terex RT 450 US | X | X |
| Truck mounted crane | Liebherr LTF 1035-3.1 |   | X |
| Truck mounted crane | Liebherr LTF 1045-4.1 |   | X |
| Truck mounted crane | Liebherr LTF 1060-4.1 |   | X |
| Truck mounted crane | Tadano Faun HK 40 | X | X |
| Truck mounted crane | Tadano Faun HK 60 |   | X |