Thevessen's equipment guides
Read news and insights of our daily work and our current projects in our corporate blog:
Specifications for
TDKv - The service provider for crane hire & access hire companies
We provide you with the best available equipment guides, corporate brochures and any other print works for your crane hire and access hire company for successful sales, advertising and acquisition. You also find useful information for planning of mobile cranes and access platforms:
Equipment guides are the perfect sales tool to showcase your crane and equipment hire company to your customers.
An equipment guide is the most effective way to introduce the mobile cranes, tower cranes, access platforms, heavy haulage equipment and any other hire equipment to your customers. At the same time you provide your hire customers with a reliable source for crane lift plans and job site planning.
The in-house-production of an equipment guide is a very time consuming work for each individual crane and equipment hire. The in-house-production mostly fails due to the considerable amount of time required to input the data. Printing stores and advertising agencies on the other hand are not accustomed to the technical intricacies of a crane and equipment hire company.
For the production of an equipment handbook they need every single mobile crane load chart, all crane specifications, drafts as well as detailed information and brochures for all access platforms, forklifts, telescopic handlers, trucks, heavy haulage equipment and every other piece of your hire equipment.
All we need is your logo and your crane and equipment list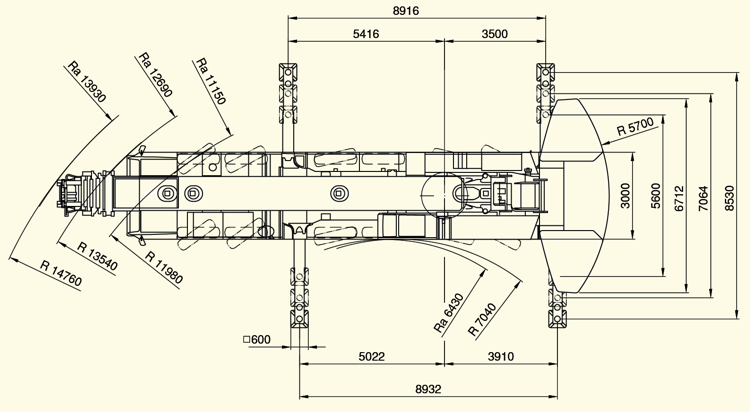 We deliver mobile crane CAD blocks for crane lift plans
Crane CAD blocks for all current mobile cranes for your CAD crane lift plans available as DXF or DWG files.
Including all dimensions, outrigger basis and slewing radius our crane CAD drawings contain all relevant elements of the mobile cranes - ready to be used in your concrete CAD crane lift plan.
At once you can check and show the space needed by your crane for rigging and slewing. This gives you a perfect crane lift for your customer.
The crane CAD blocks are scaled redrawn in AutoCAD by our draftsmen based upon the crane manufacturers' brochures. Check our stock list of CAD blocks for mobile cranes and download free sample drawings for tryout below.
Crane hire companies for your lifting tasks
When you need to hire mobile cranes for lifting tasks on different job sites in different countries you will have a great benefit from our comprehensive crane hire directory. This listing will help you at the hire desk quickly to find the best suitable crane hire company for your lifting needs all over the world.
The "International Crane Rental Directory" is your essential source when it comes to hire of all terrain cranes, rough terrain cranes, crawler cranes or any other kind of mobile cranes in Europe and worldwide.