Are you looking for crane load charts for your lift planning?
Preparing a crane lift plan is one of the most essential tasks in the crane business. As a lift planner who needs to plan several crane jobs every day, you constantly need to consult the crane charts of numerous different mobile cranes. For you we have developed the TDKv-KranTechnikon.
This standard mobile crane load chart book contains the metric load charts, working diagrams and dimensional drawings of 240 mobile cranes with capacities between 6 and 1.250 t. Load charts for all telescopic cranes, lattice boom cranes, crawler cranes and mobile tower cranes of recent years are compiled in one PDF file in a uniform design.
Through the extensive PDF menu you will find all the required crane charts and specifications for your lift planning within a few seconds. All crane configurations are explained by multilangual pictograms. Explaining text parts are given in german, english and french. With just a few clicks, you can access the crane load charts and specifications of 240 mobile cranes from all the major crane manufacturers.
TDKv-KranTechnikon (mobile crane load chart book), Issue 2, PDF-file: Free of charge, delivery by download
Published: May 2006
Order free Mobile crane load chart book >>
Get customized crane load charts for your crane hire company >>
Scaled mobile crane top views for your lift planning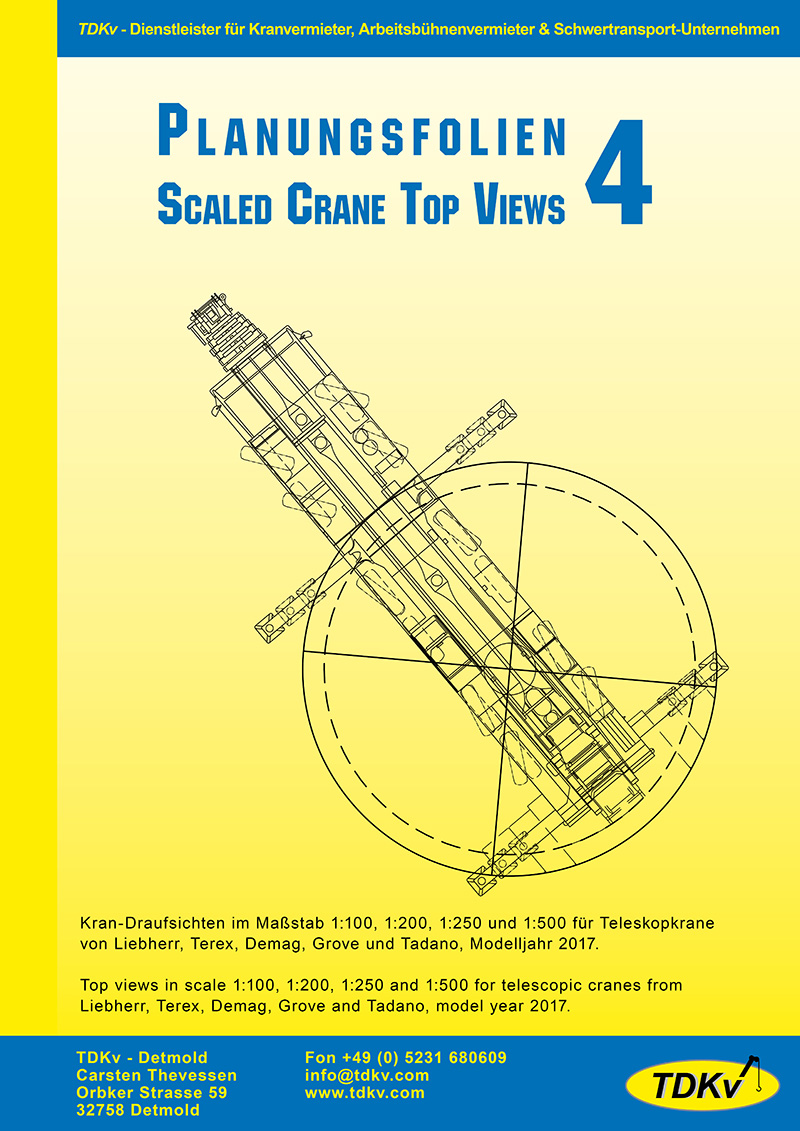 The fourth book of planningfoils contains crane top views for the current telescopic cranes manufactured by Liebherr, Terex, Demag, Tadano and Grove. More than 80 pages include top views for 67 cranes in scale 1:100, 1:200, 1:250 and 1:500.
Laying the top views on your job site plan allows you to check easily if a chosen crane will fit into the job site and if enough space is available for the outriggers and for slewing of the upper structure. All sizes are given in metric and imperial values. Based upon the manufacturers drawings all top views are redrawn in AutoCAD and enable a more precise verification of your crane location and crane lift plan.
Planningfoils-Book 4, DIN A4: EUR 85,00
Published: January 2017
Printed on transparent paper
Order Mobile crane top views book >>
Scaled crane top views for your lift planning (table of contents)
| | | | | | |
| --- | --- | --- | --- | --- | --- |
| Liebherr cranes | LTM 1030-2.1 | LTM 1040-2.1 | LTM 1050-3.1 | LTM 1055-3.2 | LTM 1060-3.1 |
|   | LTM 1070-4.2 | LTM 1090-4.1 | LTM 1095-5.1 | LTM 1100-4.2 | LTM 1100-5.2 |
|   | LTM 1130-5.1 | LTM 1160-5.2 | LTM 1200-5.1 | LTM 1220-5.2 | LTM 1250-5.1 |
|   | LTM 1300-6.2 | LTM 1350-6.1 | LTM 1400-7.1 | LTM 1500-8.1 | LTM 1750-9.1 |
|   | LTM 11200-9.1 | LTC 1050-3.1 | LTF 1045-4.1 | LTF 1060-4.1 | LTR 1060 |
|   | LTR 1100 | LTR 1220 |   |   |   |
| Terex / Demag cranes | AC 40/2 | AC 40/2L | Challenger 3160 | Challenger 3180 | AC 100/4 |
|   | AC 100/4L | AC 130-5 | AC 160-5 | AC 220-5 | AC 250-5 |
|   | AC 250-6 | AC 350-6 | AC 500-8 | AC 700-9 | AC 1000-9 |
| Tadano cranes | ATF 40G-2 | ATF 50G-3 | ATF 60G-3 | ATF 70G-4 44m | ATF 70G-4 52m |
|   | ATF 100G-4 | ATF 110G-5 | ATF 130G-5 | ATF 180G-5 | ATF 220G-5 |
|   | ATF 400G-6 | HK 40 | HK 70 |   |   |
| Grove cranes | GMK 3060 | GMK 4080-1 | GMK 4100L-1 | GMK 5110-1 | GMK 5130-2 |
|   | GMK 5150L | GMK 5180-1 | GMK 5200-1 | GMK 5250L | GMK 6300L |
|   | GMK 6400 | GMK 7450 |   |   |   |