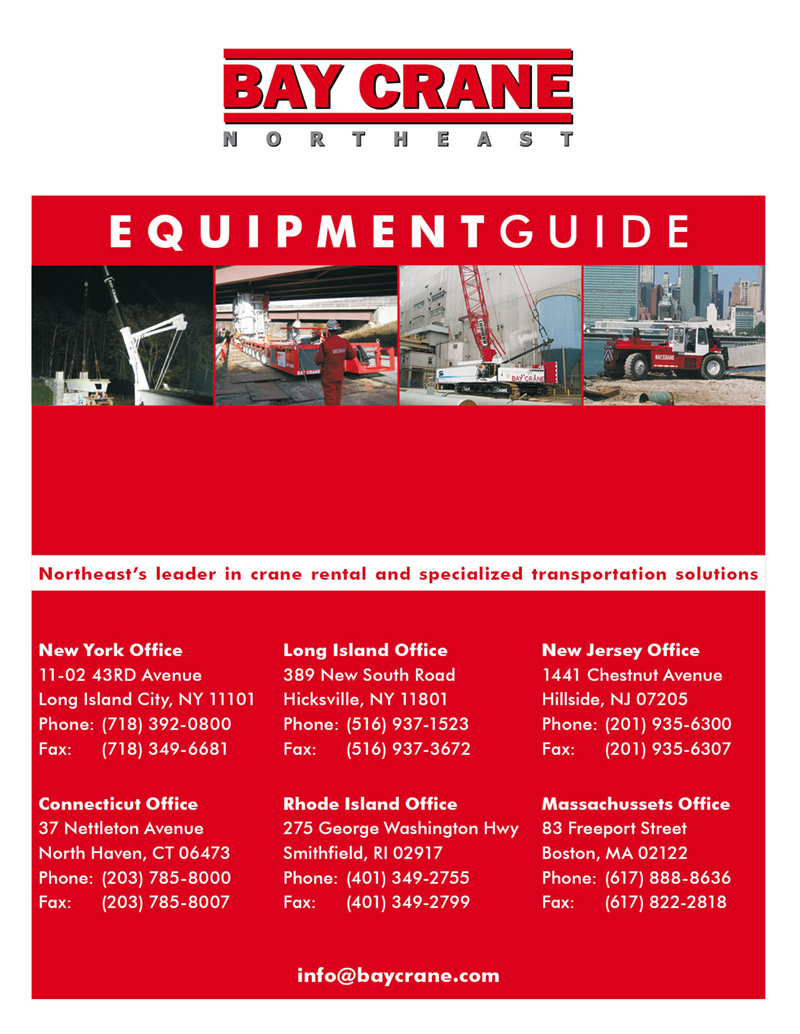 More than than six years ago, in March 2007, we have delivered the first issue of an equipment guide to our first customer from the United States. Now we have shipped the fifth updated and extended issue for this crane rental company.
Bay Crane Northeast, headquartered in Long Island City, New York, in fact is one of our most active customers during the past years. The crane rental company is steadily growing the number of cranes as well as the number of depots.
Meanwhile the crane company rents out mobile cranes from five locations throughout the north-eastern states of New York, Connecticut, Rhode Island and Massachussets.
Due to the successful fleet expansion the people from Bay Crane have a great interest to have continuously updated crane chart books. They use them as give-away and lift planning tool for new and existing customers.
About the equipment guide
In comparison to the fourth issue, that we have delivered in October 2011, we've added another 75 pages of technical content and information for the latest equipment guide. We've included load charts and specifications for several Grove all terrain cranes (GMK 3050, GMK 4100B, GMK 4115, GMK 4115L, GMK 5120B), a Tadano GR 1000 XL2 Rough Terrain Crane and specifications for a Genie GTH 5519 telehandler. The fifth equipment guide for Bay Crane has meanwhile grown to a total of 726 pages, printed in full colour and processed with a solid thread stitching.
About Bay Crane Northeast
Bay Crane Northeast rents Boom Trucks, Industrial Cranes, Rough Terrain Cranes, All Terrain Cranes and Crawler Cranes from depots in Long Island City, Hicksville, North Haven / Connecticut, Smithfield / Rhode Island and Boston / Massachusetts. With the additional equipment rental of fork lifts and telehandlers you can get the perfect lifting solution for every purpose from Bay Crane.