This heavy haulage job for Collett & Sons was not about massive weights or large dimensions. Nonetheless it was a very special transport which the UK haulage company from Halifax in West Yorkshire has realized.
Thrust SSC (Thrust Supersonic Car) is a jet driven car. On October 15th 1997 the car broke the world speed record of 1228 km/h in the Black Rock Desert, Nevada. For the speed record the car was driven by Royal Air Force fighter pilot Wing Commander Andy Green. The dimensions of the jet propelled car are 16.5 m (54 ft) long, 3.7 m (12 ft) wide. The total weight including the two Rolls-Royce turbofan engines is about 10.5 tons.
Since 2001, Thrust SSC as well as its predecessor Thrust 2 are the main exhibits in the Coventry Transport Museum. Thrust 2 held the speed record for land vehicles from October 1983 just until Thrust SSC broke the sound barrier in October 1997.
Collett Transport relocates the worlds fastest cars
Starting from spring 2014 unto the first half of 2015 the Coventry Transport Museum is undergoing a complete redevelopment worth 8,5 million Pounds. So both of the world's fastest cars had to be relocated from the Spirit of Speed Gallery to the Biffa Award Land Speed Record Gallery. Collett & Sons were called to execute the transport and relocation of the valuable freight.
After months of detailed planning and precise preparing the Collett Heavy Lift Team started the relocation in the early hours of the morning at 6:30. At first Thrust 2 was lifted exactly onto a 3-axle low loader which was located across the rear gates of the museum.
The transport of Thrust SSC required a wider trailer in order to support the extra wide wheel base. When the 7-axle low loader was in position a mobile crane lifted the supersonic car across the gates of the museum too.
The transport way was not very far. It went in a very low speed around the outskirts of the building where both cars were carefully unloaded and lifted into position on their new location. Thanks to Collett Transport people can visit Thrust SSC and Thrust 2 in their new location in the Coventry Transport Museum starting from Spring 2015.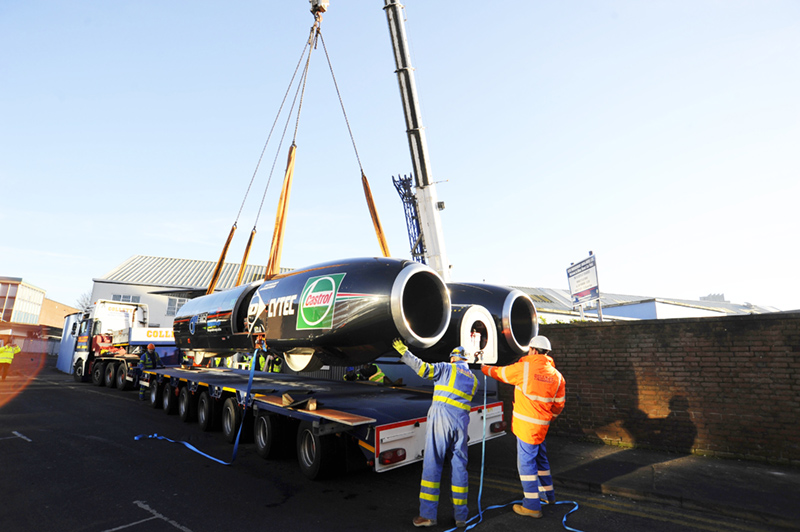 Collett Transport relocates world fastest car Thrust SSC
Collett transports worlds fastest car Thrust SSC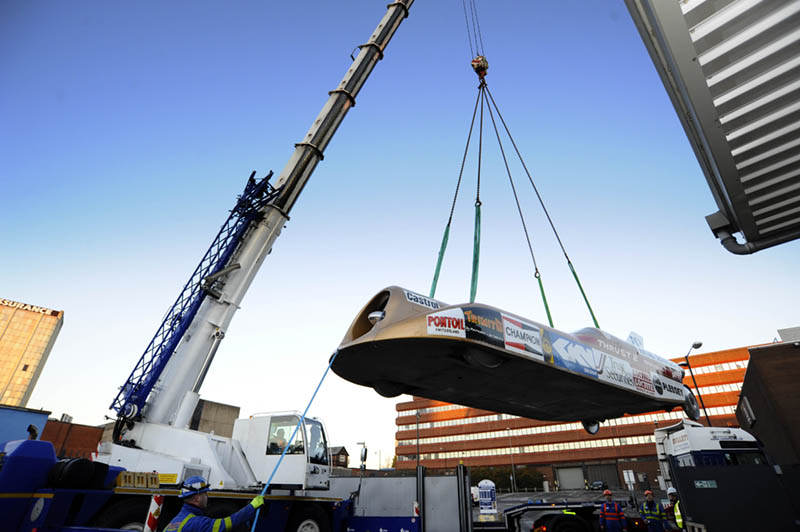 Collett Transport lifting Thrust 2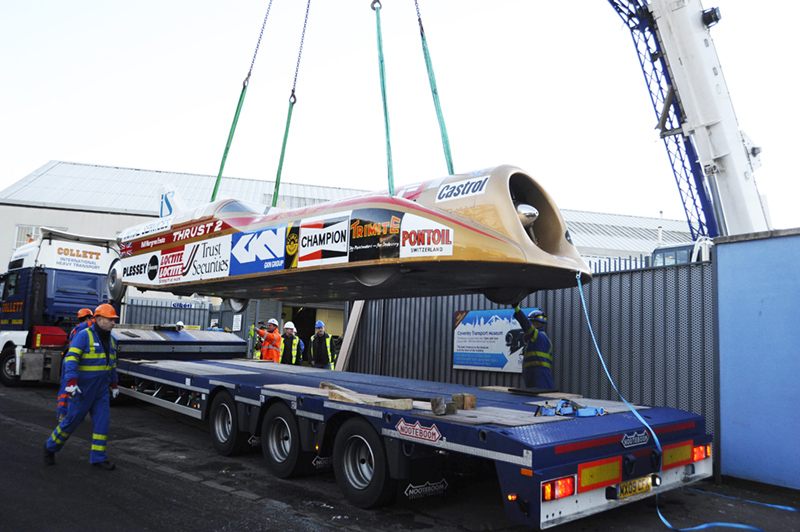 Collett Transport lifting Thrust 2
About Collett & Sons Ltd:
Transport company Collett & Sons was etablished in 1928. It is a family-owned company which has developed into a highly skilled logistics operator. Specialised teams in the four defined divisions of Transport, Heavy Lift & Projects, Marine and Consulting develop highly qualified project solutions for any transport needs.