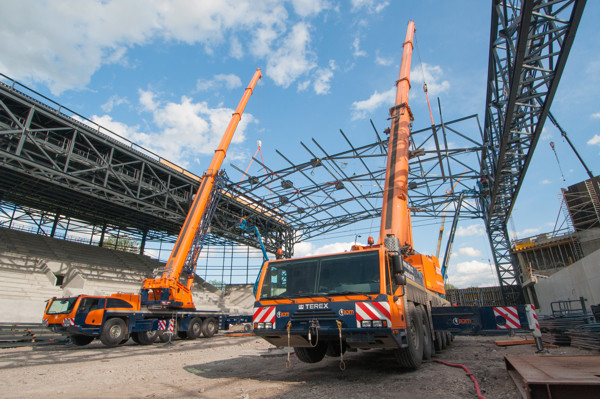 Limited space and oversized loads – these were the two challenges that crane service provider Autojeřáby Malina had to overcome when lifting the steel roof structures for the new multi-purpose arena in the Czech town of Frydek-Místek.
The solution for this difficult task was a tandem lift with a Terex Explorer 5800 and an AC 250-1 all terrain crane.
"Jointly lifting a weight of around 28 tonnes is actually a relatively easy task for our two Terex cranes. But if the load is 30 meters wide and it is to be lifted from within a sports arena structure, precision is of utmost priority," commented Radek Malina, President of Autojeřáby Malina.
The job required cranes that were compact and agile enough to maneuver in very tight conditions and with the capacity and boom length up for the task. Within the stadium, the two Terex cranes moved effortlessly and precisely into position while being able to handle the prefabricated roof structures with ease.
At the jobsite, the cranes lifted prefabricated structures that compose the roof. The Terex AC 250-1 crane operated with a main boom length of 41 meters and a working radius of 21 meters while the Explorer 5800's main boom was telescoped to a length of 42 meters at a working radius of 24 meters. With these settings, the cranes lifted the bulky load with precise control to the required height of 18 meters.
The single-engine design under scrutiny
"This illustrated the strength of these cranes, both of which offered extremely sensitive and precise control under load," reported Radek Malina. "Of course we were very eager to see how efficient the innovative Terex Cranes single-engine concept would prove to be in practice and whether fuel consumption would actually be lower than with a two-engine design. Now we have seen it clearly: the single-engine concept is in fact significantly more fuel-efficient." Another benefit of this engine design was the ability: to switch off the engine at any time during the job, without switching off the IC-1 crane control system. This also contributed to lower fuel consumption and improved efficiency with numerous lifting applications.
Terex Cranes Regional Sales Manager, Andreas Schramm comments: "Relationships in this industry are everything, and we are proud to have a 30 year long standing relationship with our customers in the Czech Republic via our distributor ISOS Trade."
About the Terex® Explorer 5800 all terrain crane
The 5-axle, 220 tonne (245 US ton) capacity class Explorer 5800 all terrain crane is designed for worldwide operation. Dimensions, variable axle load configurations, axle pair space, overhang, boom off solution, dolly operation: virtually all variables have been taken into account for worldwide roadability. The crane is designed so that the 70.2 t (77.4 US t) counterweight can be automatically rigged and no additional part is wider than 2.5 m (8.2 ft). A major feature of the Explorer 5800 crane is the single engine concept. Powered by a Scania 405kw/550hp engine complying with Euromot IV/Tier 4F directives, the crane employs the latest engine management system to enhance performance for both road travel and lifting. Fuel efficiency is provided using stop/start technology for the upper cabin and engine remapping depending on what type of operation is being performed, lifting or travelling.
The latest Terex IC-1 touch screen control system, along with radio remote control, contributes to safe and efficientrigging and on-site operation. The control system provides the operator with accurate load moment measurements and wind speeds, and simplifies the way the crane operates when handling even the most demanding of lifts. Designed to operate globally, the system includes 14 pre-programmed languages.
Also new is the 2.85 m (9.35 ft) walk-through carrier cabin with air conditioning, that is ergonomically designed to enhance the operator's day-to-day experience. A powerful hydraulic system for crane operation allows up to four simultaneous working movements via two, 2-axis pilot controlled joysticks that can be programmed to accommodate up to three different operators.
About the Terex® AC 250-1 all terrain crane
With an 80 m (262 ft) pinned boom, the Terex® AC 250-1 all terrain crane has one of the longest main booms that is roadable within a 12 t (13.2 US t) axle load. It features a 113 m (370 ft) maximum system length including up to 36 m (118 ft) extendable swing-away jib. It is also the most compact 6-axle crane and has the most compact working area (outrigger base and tail radius) in its class.
About Malina Crane
Based in Ostrava and operating for 16 years, Malina Crane prides themselves on being a modern and forward thinking lift and transport company. With a range of cranes with capacities from 20 t to 250 t, Malina offers full assistance from the very beginning of the order preparation; additional services include consultancy and special transport services. With a strong emphasis on safety and long lasting relationships with customers, Malina's professional team is ready to handle the most difficult challenges.
Source: Terex Cranes press release