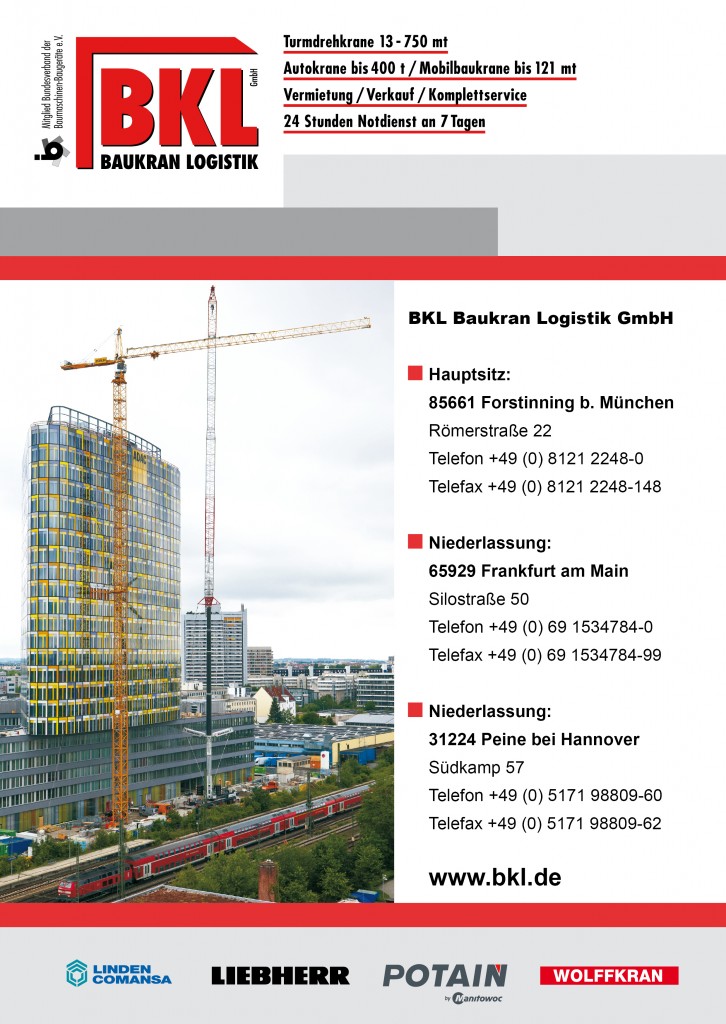 Only a few days after the delivery of the new Felbermayr equipment guide another customer has received the delivery of a new mobile and tower crane guide: BKL Baukran-Logistik GmbH. The German mobile and tower crane hire company is located in Forstinning, Bavaria.
BKL was a long term authorized dealer for Liebherr tower cranes in southern Germany. During 2011 the dealer for tower cranes and crane hire company has decided to add more tower crane manufacturers to its sales program.
The fleet of tower cranes BKL runs for hire has also seen many updates and additions. Several tower cranes from different crane manufacturers were added to the rental fleet.
We have prepared the first issue of the BKL mobile and tower crane guide in the beginning of 2009. It was delivered some months before BAUMA 2010 during which the guide has also been distributed. While the changes in the rental fleet took place we were asked to prepare all the updates and load chart additions for the second issue.
Tower crane specifications
Off course all the new tower cranes in the rental fleet had to be included into the new crane guide. Some further Liebherr tower cranes had to be added. At the same time we also had to setup and add specifications for many tower cranes manufactured by Linden Comansa, Potain and the Italian manufacturer Cattaneo.
In September 2011 BKL Baukran-Logistik and tower crane manufacturer Wolffkran signed a major sales agreement. The deal was officially announced to invited guests at the opening of BKLs new hire location in Frankfurt / Main. This meant for us that also several of the tower cranes from Wolff had to be added to the rental fleet.
Special charts for comprehensive tower crane combinations
For these cranes we've prepared some special solutions for the tower crane guide. The different available designs of the tower combinations with the various kinds of foundations are filling a whole bunch of pages.
The difficulty has been to show these different configurations without having to print a separate guide for each Wolff crane. That is why we've developed and setup special summarized charts that compress these numerous configurations usefully to a restricted number of pages. In order to give you an impression of our solution you will find a link to the PDF-files at the end of this post.
As a result of BKLs fleet expansion the 2012 crane guide has grown to more than 660 pages. More than one half of it contains tower crane specifications. This extensive mobile and tower crane guide covers complete specifications for more than 60 (!) different types of tower cranes delivered by
Linden Comansa (Top slewing cranes up to 21 LC 750)
Liebherr (Self erecting cranes, Top slewing cranes up to 630 EC-H 20/40 Litronic, Luffing cranes and mobile tower cranes)
Potain (Self erecting and top slewing cranes)
Wolffkran (Top slewing cranes)
Cattaneo (Self erecting cranes)
Mobile crane specifications
Owning 21 different mobile cranes BKL Baukran-Logistik also offers an extensive fleet of telescopic cranes for hire. Most of them are Liebherr made mobile cranes ranging from 35 up to 400 tonnes capacity. Nearly the complete current range of Liebherr telescopic cranes is hired out by BKL. Newly added in 2011 were three different mobile cranes from Tadano Faun (ATF 110G-5, ATF 130G-5 and ATF 220G-5).
Palfinger loader cranes
The third chapter of the guide shows the different available trucks with loader cranes. Most of them are Palfinger made. The loader cranes are hired out, but BKL also uses them for transportion, erection and dismantling of the rented tower cranes. You can find drawings of the trailers, which are used for heavy transportion, also in the crane guide.
Refinancing by advertising
In a former blog post I've already written about the ways how you can reduce the costs for a crane guide when you involve your suppliers for cooperation. BKL gave this opportunity to advertise in the new guide to many suppliers. Several crane manufacturers and other suppliers of the crane and lifting industry have taken the broad circulation into account and have seized the chance to advertise their products and services.
About BKL
BKL Baukran-Logistik was established in 1969 as a crane dealer for Edilmac tower cranes. Nowadays the company has grown to one of the leading mobile and tower crane sales and hire companies in Germany. The product range also includes after sale and repair service for tower cranes as well as mobile crane hire. For heavy transport a fleet of various trucks, loader cranes and trailers is available.