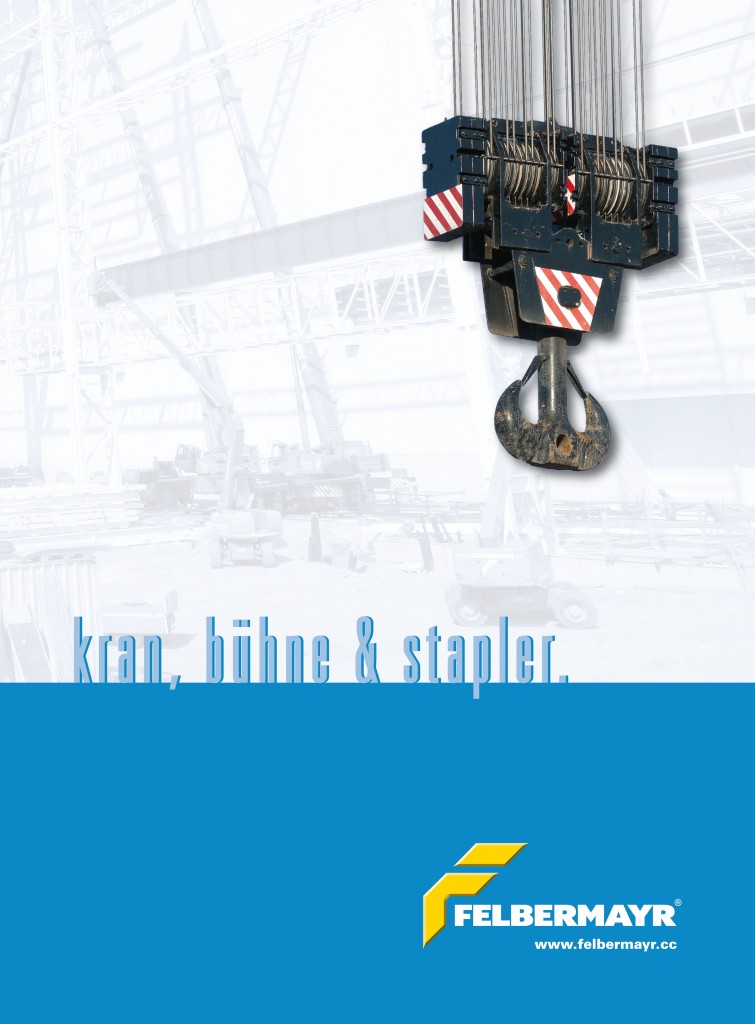 This week the next literally "big" project was finished and delivered to one of the major league crane hire companies in Europe and probably worldwide.
This  crane chart book in size DIN A5 is weighing 1,8 kg and contains pure and extensive information and specifications for a real large fleet of telescopic cranes, mobile tower cranes, lattice boom cranes, crawler cranes, rough terrain cranes, access platforms, fork lifts, telehandlers, mini crawler cranes and loader cranes.
With the 1248 pages the Felbermayr specification guide off course is far away from being a pocket guide (unless you have a real big trouser pocket for it).
But this is a real massive bilingual (German/English) resource for crane and equipment hire specifications for Felbermayrs' customers. 
Specification updates first
In July 2008 we've delivered the first issue of the Felbermayr equipment guide in a small digital print run. Since the first setup which started in 2008, the marketing department of Felbermayr has constantly send us orders for specification updates and additions. So before we got to print this years issue there was not one single big update to manage but only some smaller revisions and additions had to be done. Most of them were concerning the access platform specifications. Also some crane load charts and loader cranes were added.
Big range of mobile cranes
Off course the biggest part of the load chart book guide is filled with load charts for a real extensive range of different types of mobile cranes. All in all the Felbermayr crane hire division currently runs a fleet of approx 360 mobile cranes from various crane manufacturers.
Telescopic cranes: The contained load charts for 50 different telescopic cranes range from a 25 tonnes Kato to the 500 tonnes Liebherr LTM 1500-8.1 with 84 m of boom.
Mobile tower cranes: Felbermayr runs various mobile tower cranes from Liebherr (MK 63, MK 88 and MK 110)
Lattice boom cranes: Two different types of lattice boom crane mark the upper end for the wheeled cranes concerning load capacity: The LG 1550 and the LG 1750 from Liebherr.
Crawler cranes: The range of crawler cranes starts with a 44 tonnes telescopic crawler TCC 45 from Terex and ends with a LR 1600/2 and LR 1750 from Liebherr.
Rough terrain cranes: Load charts for five different rough terrain cranes from PPM and Terex-Bendini complete the mobile crane section of the specification guide.
All crane load charts that we have prepared for Felbermayr are also available as PDF for download on the companies' website.
Access platforms, fork lifts and telehandler
Beside mobile cranes Felbermayr offers an extensive equipment hire with more than 2000 tools and machines for all kind of tasks like construction work, inspection, installation, restoration, etc.
Access platforms: Felbermayr surely is not only one of the biggest crane hire companies in Europe. The Austria-based company also offers one of the most versatile fleets of access platforms / MEWPs for hire. The smallest platform has a working height of 5,7 m whereas the biggest one has a maximum working height of 102,5 m. The flagship is a WT 1000 all terrain access platform from Wumag Palfinger. It is mounted on a 5 axle all terrain crane carrier from Tadano Faun.
Fork lifts and telehandler: Common fork lifts and various telehandler with lifting height up to 25 m are available for hire. Ancillary equipment for the telehandler like men baskets, jibs and other make them a variable tool for the construction business and other appliances.
We have also delivered all specifications as PDF files for the access platforms and fork lifts. You can download them on the Felbermayr website.
Mini crawler cranes and loader cranes
Maeda mini cranes: Felbermayr offers mini cranes from 3 tonnes capacity up to 6 tonnes load capacity for hire. All available mini cranes are from Maeda with the LC 1385 on top of the range.
Palfinger loader cranes: Completely new in this issue of the specification guide are load charts and detailed drawings / workind diagrams for twenty truck mounted Palfinger loader cranes.
Heavy lift handling
The final chapter of Felbermayrs' equipment hire guide covers information and specifications for tools and vehicles for the heavy lift handling division. In detail this are
Valla industrial cranes
Heavy lift hydraulic gantries
Air cushions.
As you see this equipment hire guide really offers massive information. I guess it's hard to find a more comprehensive and complete specification guide. Now let's have a short look on the book itself.
PVC cover in digital full colour printing
A specification guide in this size needs to be very robust for the daily use in the office and on the job site. For that reason we mostly use a thread stitching as binding. For the cover the marketing department of Felbermayr has decided for a PVC cover with a full coloured digital print. This is the same kind of cover we've delivered for the first time some weeks ago. Btw already a third customer has - inspired by the referring blog posts - shown interest in the PVC cover in digital full colour printing for his presently processed specification guide. It seems that this cover is going to become a new bestseller.
About Felbermayr
Felbermayr was first established in 1942 starting with only one truck and has grown to an international operating hire company with major divisions in transport, lifting and construction. The transport, crane and lifting division has a staff of approx. 1400 employees in more than 40 locations across Europe. In November 2011 this division was awarded as a leading company of Austria. The construction division is a leading supplier for structural engineering, civil engineering and waste management in Austria and adjoining countries. From the beginning in 1942 down to the present day Felbermayr still is a family owned company.