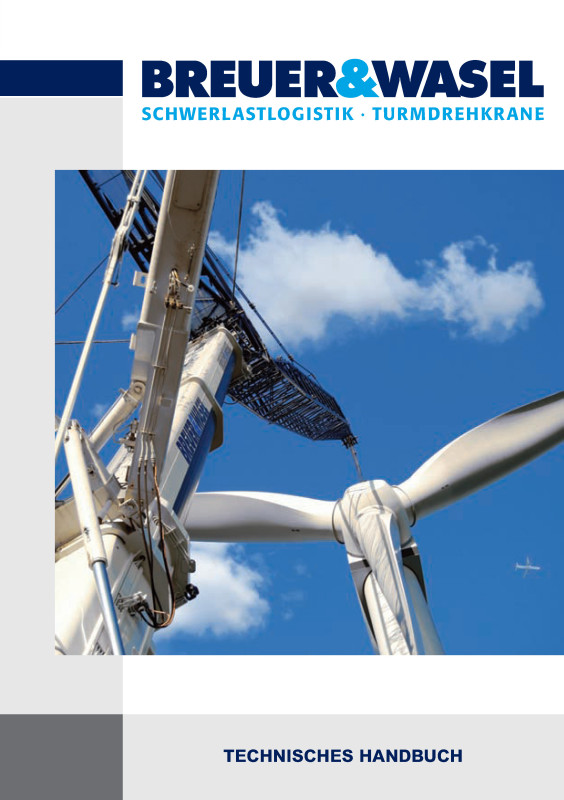 In midth of January one of the biggest mobile and tower crane hire companies in Germany took delivery of their new and updated crane guide. The previous issue was printed and delivered back in 2007 so it was no more up to date.
Breuer & Wasel is one of our very early customers. The first handbook we have set up in Adobe Pagemaker many years ago. In order to give the new crane guide a nicer look, we have transferred the complete content to InDesign now and gave it a decent face lift. The real nice design of the cover and some other parts of the content was created by Wasel's new advertising agency.
The new Breuer & Wasel crane guide contains load charts and specifications for:
Mobile cranes from 30 up to 750 tons. This is our first book that contains complete load charts for the brand new Liebherr LTM 1750-9.1 telescopic crane.
Rough terrain cranes up to 160 tons. As biggest RT-crane Breuer & Wasel owns the one and only Liebherr LTL 1160.
Crawler cranes up to 600 tons. The crane company runs telescopic crawler cranes LTR 1060 and LTR 1100 from Liebherr as well as the lattice crawler crane model LR 1600/2.
Tower cranes Specifications for 40 different tower cranes from Liebherr up to the 630 EC-H 40 top slewing crane. Though the tower crane chapter has more than 200 pages it is just the second biggest tower crane section we have prepared so far.
Heavy haulage and transport vehicles
Initially this book should have been finished much earlier last year introducing the new company name and logo "Wasel". But the official change of the company name and the relaunch was postponed to 2013. Actually the LTM 1750-9.1, which was delivered only a few days ago, is the first crane with the new Wasel livery.